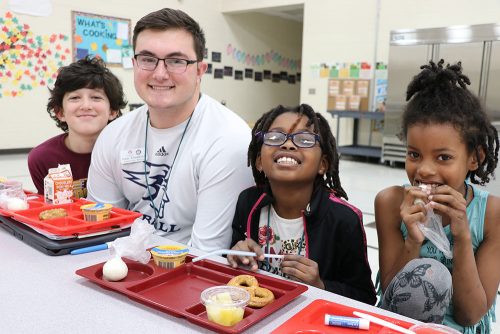 At the Boys & Girls Clubs, we never take a single approach when it comes to helping kids succeed. We believe it takes a safe environment, skilled staff, and high-quality programs to ensure kids have a great future. The Club provides young people with the guidance to be innovative, brave, and confident. We are the Boys & Girls & Tech & Tutoring & Fitness & Arts & Music and so much more.
We can't do it alone. We need your help. Whether it's through a monetary donation, a mentor, a tutor, a board member, or a caring and supportive staff member, it all makes a difference.
You have the power to change a life and invest in the future of our community!
You can make a difference today. Together, we can do whatever it takes to build great futures. Boys & Girls Clubs keep kids safe by providing a positive, inclusive environment where they can learn, play, and grow. Donate today and change a life.
Other Ways to Give
ShopRaise: From groceries and apparel to technology and travel – a percentage of almost everything you buy using the ShopRaise app goes to support our cause — no fees or extra cost to you. Click on the link to get the App and start shopping!
Walmart Round up: Donate your change by automatically rounding up your orders to the nearest dollar at checkout. Click on the link, sign in to your Walmart account, choose us as your charity, and start shopping!
Individual & Group Volunteering
Are you looking for an opportunity to change a life and give back to your community? We love our volunteers! With your time, talent, and passion, we can offer the youth and teens a more supportive, inclusive, and engaging environment. As an Individual volunteer, there are many ways you can help.
Homework Help + Tutor
Program Volunteer
Music Program + Lesson Volunteer
Dinner Volunteer
Special Events
Board of Directors, Committee, or Advisory Council Member
Large Group & Corporate Volunteer Opportunities
We want to ensure you are matched with a project that fulfills your mission while supporting our kids and enhancing the programs! Check out all of the ways your team can make a difference!
Facility Improvements + Updates
Projects focused on: STEM, Career Readiness, Literacy, Health & Wellness
Meal Drives
Back-to-School Supply Drive
Holiday Gift Drives