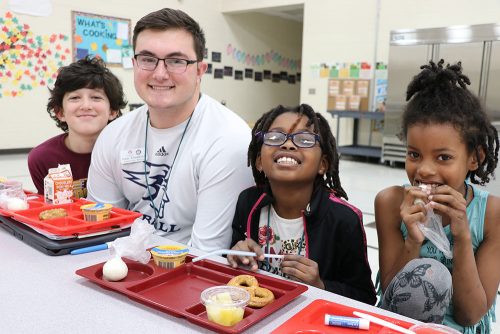 At the Boys & Girls Clubs, we never take a single approach when it comes to helping kids succeed. We believe it takes a safe environment, skilled staff, and high-quality programs to ensure kids have a great future. The Club provides young people with the guidance to be innovative, brave, and confident. We are the Boys & Girls & Tech & Tutoring & Fitness & Arts & Music and so much more.
We can't do it alone. We need your help. Whether it's through a monetary donation, a mentor, a tutor, a board member, or a caring and supportive staff member, it all makes a difference.
You have the power to change a life and invest in the future of our community!
Give Today
You can help open doors for our youth and teens. Your gift will support the hundreds of kids who visit our Clubs each day – because all kids deserve a great future.
Individual & Group Volunteering
Are you looking for an opportunity to change a life and give back to your community? We love our volunteers! With your time, talent, and passion, we can offer the youth and teens a more supportive, inclusive, and engaging environment. As an Individual volunteer, there are many ways you can help.
Homework Help + Tutor
Program Volunteer
Music Program + Lesson Volunteer
Dinner Volunteer
Special Events
Board of Directors, Committee, or Advisory Council Member
Large Group & Corporate Volunteer Opportunities
We want to ensure you are matched with a project that fulfills your mission while supporting our kids and enhancing the programs! Check out all of the ways your team can make a difference!
Facility Improvements + Updates
Projects focused on: STEM, Career Readiness, Literacy, Health & Wellness
Meal Drives
Back-to-School Supply Drive
Holiday Gift Drives
Careers
Great Futures Start Here. We are always looking for dedicated, passionate professionals interested in supporting young people's development in our community. Each team member is respected and encouraged to take part in ongoing learning opportunities and advance professionally. We provide each staff member guidance through orientation, peer-to-peer mentoring, and quarterly all-staff training.
Equal Employment Opportunity
The Boys & Girls Clubs of the Greater Chippewa Valley are committed to creating a diverse environment and are proud to be an equal opportunity employer. All employment decisions are based on business needs without regard to race, color, ethnicity, religion, gender, gender identity or expression, sexual orientation, national origin, genetics, disability, age, veteran status, or any other applicable legally protected status. All qualified candidates are encouraged to apply. Check out our openings & apply today!
Apply Now
Eau Claire: Program Coordinator
Testimonials
The Boys and Girls Club understands the value and potential of the youths in our community and provides a safe space for them to grow and develop. We continue to see how the Club moves students from the margins of our community to become its future leaders."- Jim Schmitt, Board Member, Executive Administrator, Eau Claire Area School District
It is so inspiring to see the positive outcomes that the Club creates with kids to ensure their development and future success. Youth are the future of our community, and investing in their success is the best way to create a brighter future for them and for our community."- Mary Steinke, Board Member, Huebsch Services
The Club's impact is felt throughout the community, but the real impact is obvious when you see the kids' faces and hear their stories. There are not many other organizations that can have as much direct impact on a child's life as the Boys & Girls Club."- Jason Plante, Board Member, Vice President, Market & Johnson
I work at the Boys and Girls club to make a difference in the lives of our members. Watching our members progress and grow is very rewarding to me. To see the smiles of the members that walk through our doors keeps me motivated. Working at the Boys and Girls Club has given me great opportunities to grow and have lasting connections with the members and the amazing staff. The Boys and Girls Club has always given me a great sense of belonging, and I am so lucky to work at such a wonderful place."- Cassidy Q, Boys & Girls Clubs of the Greater Chippewa Valley Behavior Specialist